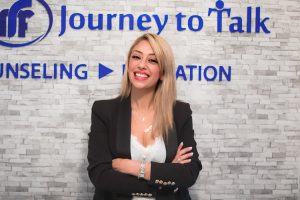 Εκπαίδευση
Registered Psychotherapist

Specialized in Systemic Family Psychotherapy

MSc Psychology

Certified Mental Health and Supervision Trainer for Professionals

Certified Career and Educational Counselor
Michelle Frantzi Karan
Michelle Frantzi Karan PAP,ECP accr. Member | GCDF
Psychotherapist | MSc Psychologist | Systemic Family therapy
Michelle Franzi Karan is a registered Psychotherapist from the European and Pancyprian Association of Psychotherapists with registration number 066-FMPAP-SF.
She specializes in Systemic Family Psychotherapy for family, couples, adults and adolescents.
She holds a Msc in Counseling Psychology and she is a graduate of the Systemic Institute of Cyprus.
She is a former university lecturer for more than 10 years and practicum coordinator of Masters Degree in Counseling.
She is in private practice for more than 10 years working with adults, teenagers' families and couples facing different psychological and communication difficulties.
Her working experience was in psychiatric clinics and rehabilitation centers working with patients (with serious psychiatric diagnosis) and their families.
Her ambition is to provide a competent and dedicated professional environment for people entering her office in order to encourage and empower people's life and positive belief system.
Her mission is to empower people and to encourage them to see different perspectives in life. Moreover, she helps people recognize and evaluate their needs and to effectively communicate with others, which will lead them to a more satisfying way of living.
She manages the private office "Journey to Talk" in Limassol since 2010 with scheduled appointments live and online where needed.
"We are all travelers in life, some with many and long journeys, others with short and few, some have many fellow travelers and some few. It is important that you choose: where, with whom and how you want to travel"-Michelle Frantzi Karan